24 August 2021
Good Afternoon Michael,
Thanks for your query to NatureMaps Support and our apologies for the length of time it has taken to get back to you.
In case you weren't aware, the Department for Environment and Water makes some of its key spatial data layers openly accessible through the Data SA web site – Data.SA.  You can find a version of the NPWSA Reserves layer (ie South Australian reserves dedicated under the National Parks and Wildlife Act, Wilderness Protection Act and reserves for conservation purposes under the Crown Land Management Act) in the following location – Conservation Reserve Boundaries – Dataset – data.sa.gov.au.  This version of the data is equivalent to the NPWSA Reserves layer in NatureMaps – see screenshot below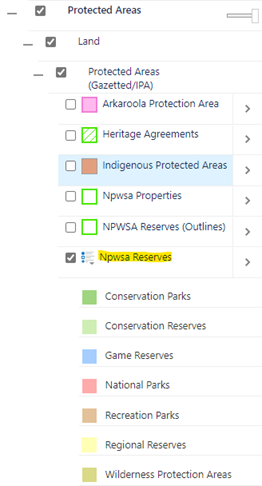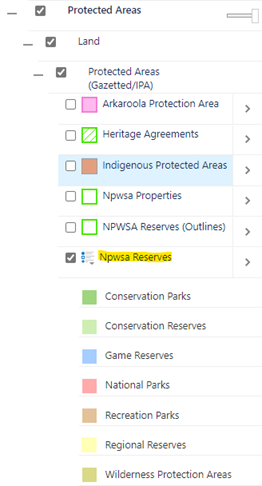 The procedure for supplying data to Google has changed over the years.  Previously, Google acquired a series of Australia-wide foundation data sets (including parks and reserves) from a National mapping distributor.  These National mapping data sets were updated on a regular basis from authoritative data supplied from State and Territory mapping agencies.  Under this approach, there was a clear pathway to provide updated mapping data to national and broader mapping initiatives.
Google has since stopped acquiring Australia-wide data from this National mapping distributor and now seems to favour a different approach for updating data.
Looking at information online, Google now promotes a Google Maps Content Providers program – Google Maps Content Partners – Content Providers – Google Maps.  Map Content Partners can provide their own data to improve information displayed on Google Maps – it looks like Parks and Protected Areas are part of the data that Google will accept.
In order to submit mapping data under this partner program, Google has published some guidelines defining the required format and structure of the mapping data to be provided – Geo Data Upload Content Requirements – Map Content Partners Help (google.com).  For mapping data representing Parks and Protected Areas, partner data will need to adhere to the following guidelines.


Based on these guidelines, the South Australian NPWSA Reserves layer displayed in NatureMaps will require some "translation" to a data structure that will comply with the Google mapping requirements.  For this reason, it is probably best that this work is done by the department so that consistent routines can be established as part of a regular supply mechanism for Google mapping purposes.
We'll coordinate with the department's Parks and Communications teams to determine a way forward.
Thanks again for your interest.  Please let us know if you have any further questions.
Regards, NatureMaps Support
DEW Online Mapping
Science and Information Branch | Strategy Science and Corporate Services Division
Department for Environment and Water
81 – 95 Waymouth Street Adelaide, SA 5000
GPO Box 1047, Adelaide, SA 5001
environment.sa.gov.au